Work where you work best
We believe the future of work is hybrid, output driven and sustainable!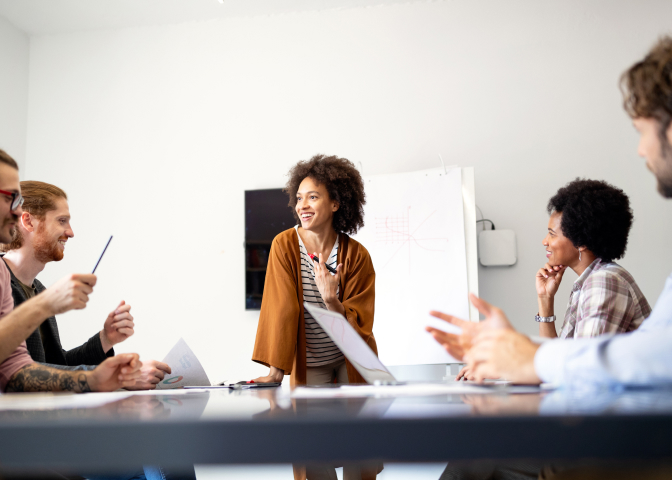 About us
The world has experienced working from home is not the right solution, working hybrid is! And that's where YourDesq comes in. We are building a platform that creates the ability to increase your social connectivity, keep your flexibility, improve your sustainable footprint and most importantly enhance your productivity.
On the other hand we offer businesses the opportunity to think differently about their office space. To manage the use of their office space dynamically and cost efficient, while enabling employees to work hybrid. We will welcome this new community of users and hosts to our platform from 2021.
The faces behind YourDesq
Together we build a platform to facilitate the new way of working. All from a different point of view, with a different expertise.
Board of Advisors
Marischa van Zantvoort

CEO and Managing Partner, Loyd Consulting Group

Jan Willem Cramer

Senior Advisor, Van Lanschot Kempen

Ronald van Zetten

Former CEO HEMA
Leadership
Wouter van den Brink

CEO, Co-Founder

Esmée Clewits

Head of Creative, Co-Founder

Raymond Joore

CCO, Co-Founder

Open role

Chief Product Technology Officer
Strakzat
Product Development
Jasper den Ouden

UX Designer at Strakzat

Rob Scholten

Digital Designer at Strakzat

Murtada al Mousawy

Developer at Strakzat

Gideon Heilbron

Developer at Strakzat
Marveltest
Marketing, Growth Hacking
Buphinder Singh

Founder & Managing Partner at Marveltest

Rianne Okkema

Digital Growth Consultant at Marveltest

Diana Pantaia

Digital Growth Consultant at Marveltest
Frequently Asked Questions
We're always happy to help you out. Find answers to the most asked questions for hosts below!
If you don't have an YourDesq account yet, go to YourDesq.com and click Sign Up.
You can sign up for an account using your email address or Google account. Signing up and creating an YourDesq account is free.
After you sign up, be sure to complete your profile before you make a reservation or create a listing.

To create a listing as a Host you go to your account and start a new listing. Every Workplace (location) needs its own listing. The following information is needed:

Name of the Workplace;
The location of the Workplace;
The type of Workplace;
E.g. hotel, coworking space, office
The available Workspaces within the Workplace;
E.g. a flex desk, a workstation, a private office or a meeting room
What amenities the Workplace has;
What amenities specific Workspaces have;
The price per day per type of Workspace;
The availability of the Workspaces per day.

Every Host creates 1 listing per 1 Workplace. A WorkPlace is a building or floor level(s) within a building e.g. the office. A company can own or rent one or more Workplaces, however we ask you to use 1 Workplace per listing, as follows:

1 Workplace has 1 country
1 Workplace has 1 city
1 Workplace has 1 address
1 WorkPlace has 1 district

A User searches for a Workplace which contains one or multiple Workspaces. Workspaces can be categorized as follows:

Flex desk (flex workstation within an open space)
Workstation (dedicated workstation within a shared office or open space)
Private office (probably for 1 - 2 persons)
Meeting room (probably for 4+ persons)

A Workplace amenity is a shared amenity that every user may use that visits your Workplace. These amenities are not dedicated to specific workstations, private offices or meeting rooms.

Workspace amenities are amenities dedicated to the User that booked a specific Workspace. E.g. A workstation has a dedicated monitor. A meeting room has a dedicated projection screen.

The price you set is always up to you. We recommend that you check out similar YourDesq Listings near you. When you create a YourDesq Listing, we help you determine the right price. Pricing is based on the following principles:

The local price paid for an office per meter per year;
What kind of space you offer. For example facilitating a meeting room for 10 people or a smaller workstation.

If you don't feel comfortable with the suggested price, you can just change it to a price you think is suitable for your offered space.

To manage your listing go Account and click My Listings

To reset your password go to Account and click Account Settings and change your password.

To change your profile settings or any other account settings go to Account and click Account Settings.

As a User, we ask you to fill in your account details as completely as possible. The following information is requested:

After completing your profile as a User you're able to book a Workspace on YourDesq. Within the search page you're able to select your location, preferred day, type of Workspace, the amount of people and needed amenities. Select the Workplace that suits your preferences and book a Workspace right away! Keep in mind that your Host needs to accept your reservation before your booking is confirmed. You can keep track of this process within the Booking section & Inbox.

We keep you updated with our email confirmations. We will send you an email saying your payment has been processed and your reservation has been confirmed. Note: a confirmed reservation does not guarantee a confirmed booking.

Once your reservation has been confirmed, the Host will receive your booking request in his inbox. The Host will then review your request and approve or deny your booking request. When the Host confirms your booking, you will receive a Booking Confirmation in your YourDesq Inbox and in your email. The Booking Confirmation will contain all necessary booking details: host, location, time and payment.

When you go through the booking process you will end up in the payment section to confirm your reservation. Here you can pay with Ideal, Mastercard & Visa. The amount paid will be held until the Host accepts your booking. If this does not happen, we will automatically refund you.

To contact your Host use the chat function within your Account. Go to Account -> Inbox and find your chat per reservation.

To contact your User use the chat function within your Account. Go to Account -> Inbox and find your chat per reservation.

As a User you can cancel a booking up to 24 hours before the start of the booking. Go to the Booking section and press Cancel Reservation. We'll automatically inform the Host and refund you.Unfortunately we cannot accept cancellations later than 24 hours in advance.

As a User you can cancel a booking up to 48 hours before the start of the booking. Go to the Booking section and press Cancel Reservation. We'll automatically inform and refund the User.Unfortunately we cannot accept cancellations later than 48 hours in advance.

Once a Host accepts a reservation the booking is completed. The User pays in advance and this amount will be paid to the Host within 24 hours after check-in.

A host will communicate how a user checks in on location.

When Users don't show up or don't check in, but the booking has not been canceled in time, you will receive the booking payment within 24 hours after the scheduled check-in.

No, we take no liability in any accident that might take place in the Workplace or Workspace.

To ensure quality for both our hosts and users, we have put in place a number of safety rules to ensure everyone gets the quality they deserve.

A user must create an account before he or she can book a Workspace.
When an account is created, the user must create a profile that describes more about the User, such as professional background. The profile is necessary to create a transparent community built on trust and quality.
When a User makes a reservation, it is up to you to decide whether to accept or decline their booking request.
We advise you to set clear office rules and describe preferred professionals you would like to welcome.

Of course we keep observing the Covid-19 measures. Locations will be available as long as the measures allow. In addition, these workplaces will act as safely as possible. Users and Hosts remain responsible at all times for the use of YourDesq.